The Seven 'C's – In the past many have traveled the seven seas. Bob's "Seven 'C's" are different. They are a set of principles that each begin with the letter "C" that guide him to fulfillment and wellness.

Positive Living – What makes one person positive and another negative? Bob examines what makes people tick. He offers what can give strength and peace of mind in dealing with the pressures of everyday living. Bob offers hopeful quotes, humor, and insights. Content from this talk can be found by reading the Positive Living link.


An Attitude of Gratitude – It's about fully utilizing the power of appreciation in our lives. Look for the good stuff and expect it in others. Be genuine and speak from your heart. Thank people in a personal way. Praise people and let them know their positive impact on you. Acknowledge people for no apparent reason.

Life's Mistakes & Insights – Looking back to the wisdom of the Roman philosopher Cicero, Bob speaks about how life's mistakes have a timeless quality. Pulling from his 60+ years of life's lessons, he shares his insights on living well. Content from this talk can be found by reading the The Six Mistakes and My List of Favorite Insights.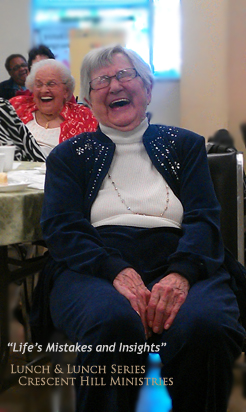 How To Get the Most Out of Life – Bob offers fifteen ways to get the most out of life and asks the audience to add more. The goal is for all of us to live life fully and completely.
The Gentle Art of Caring – This presentation is about caring for others, but even more about caring for you. Bob offers tips and suggestions for inner peace and contentment. Content from this topic can be found by reading the The Gentle Art of Caring link.
What I Learned in the Seminary – I spent 12 years in the seminary - six years at St. Thomas Seminary, a minor seminary here in Louisville and six years at St. Mary's Seminary & University in Baltimore. I ended up with a degree in philosophy and a master's in theology. Most importantly the seminary experience taught many life lessons that far exceeded the degrees.
Keeping It All Together – It's easy to love someone when they are doing well, when they are far away or any time the conditions are calm and the sailing smooth.
The challenge and true test of love is how to express care, how to show it and embody it in our own actions when difficulties arise, when needs increase, when resources are taxed and when it would be easier to simply walk the other way.If you are involved in a caregiving situation with a loved one, Bob offers several suggestions for keeping it all together as a caregiver. and with life itself.
12 Steps to Peace – How can you find peace in the valleys of your life? Bob presents a dozen steps everyone can take to discover a more peaceful way of life.